More than half of people believe the level of corruption in their countries has increased over the past two years, according to Transparency International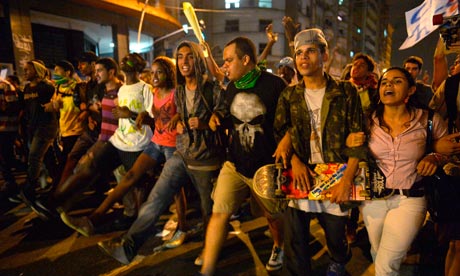 Young people demonstrate against government waste and corruption in Niteroi, Brazil in June 2013. Photograph: Yasuyoshi Chiba/AFP/Getty Images
More than half of people believe the level of corruption in their countries has increased over the past two years, according to the world's largest public opinion survey on the subject.
The 2013 global corruption barometer, released on Tuesday by NGO Transparency International, surveyed 114,270 people in 107 countries. Unlike the better-known corruption perceptions index, which relies on expert opinion, this project surveys the public on their views and experiences of corruption.
More than one in four respondents (27%) said they paid a bribe over the past 12 months when accessing key public institutions and services. Of those who reported paying a bribe, 40% said they did so "to speed things up"; 27% said "it was the only way to obtain a service", while 21% said they paid a bribe "as a gift, or to express gratitude". The remaining 12% of respondents said it was "to get a cheaper service".