Thursday, February 14, 2013
The veteran owned company PHI has come out with a line of alien invasion survival kits. Much of the gear is the same that is issue to troops in the field. 

The company claims:
"This kit is no novelty, it is stocked full and exceeds the government and exceeds the government standards at ready.gov recommendations for and alien invasion."
PHI Emergency Management Solutions released their new line of Alien Invasion Survival Kits. These kits are complete 72 hour Grab-n-Go bags suitable for any emergency. These kits meet or exceed the United States government recommendations for emergency kits and have a theme that appeals peoples sense of adventure.
Gilbert Colon, Senior Vice President of PHI Management Solutions announced that PHI's new line ofAlien Invasion Survival Kits is ready for sale. These kits, he said, are based on our successful series of Zombie Apocalypse Kits and are a fun way to prepare for emergencies and disasters.

Ralph Huber, Company President, said that the kits are available for both retail and wholesale purchase. Huber added that they are actively looking for retail distributors of their emergency kits and can even produce custom branding for any retail outlet.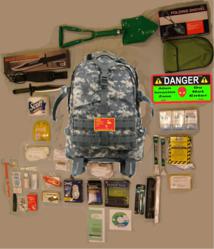 Jim Moody, Vice President of Emergency Management and Training, added that despite the theme, these kits are high quality 72 hour kits designed for home and auto use. "We have found that our themed emergency kits are our most popular products. They all have the emergency items recommended by the U.S. government on the Ready.gov website but also appeal to the sense of adventure in all of us. We believe that our kits are better than the rest because we took the time and designed them to be the best. If you have to use your kit during an emergency, you do not want the bag to fall apart. That is why we started with a high quality military grade pack and made the rest of the components both dependable and reliable for when you need to count on them in an emergency. "

PHI Emergency Management Solutions Announces a New Line of Emergency Preparedness Kits with an Alien InvasionTheme

Huber said that these kits can be purchased on line at Amazon.com or on the PHI Management Solutions website http://www.PHI-emsolutions.com. He also added that prospective dealers can send an email to dealers@phi-solutions.net to get more information about how to become a distributor.
The PHI team is composed primarily of veterans with over 90 years of combined service. Each member of the team has proven themselves through combat command and has extensive experience in disaster response and planning. Team members have commanded response forces and/or participated in several disaster responses to include the 2005 crash of a civilian airliner in Afghanistan, Hurricane Katrina 2005, Southwest New Hampshire Flooding in 2005, New Hampshire Statewide flooding in 2006, Epsom, NH tornado response in 2007, the 2008 New England Ice Storm, 2009 Anthrax Response in Durham, NH, the 2010 NH Wind Storm, Hurricane Irene in 2011, the October 2011 New England Snow Storm and Super Storm Sandy in October 2012.
http://www.educatinghumanity.com