Friday, July 12, 2013 18:11
An Army officer apologized for Army helicopters with spotlights conducting an unannounced training mission in Port Angeles after the city's mayor said residents felt "terrorized" by the unannounced mission.
"I apologize, this is totally unacceptable," said Army Col. Charles Hodges. "At the very least we should have notified local authorities of the exercise."
The helicopters, four CH-47 Chinooks, flew low over Port Angeles in Washington state on July 11 from about 11:15 p.m. to midnight, according to the Peninsula Daily News, which spoke to Hodges. The training exercise included Blackhawk attack helicopters. Army officials wouldn't give details about the mission.
The local police recieved dozens of calls about the helicopters.
"They terrorized my city," Port Angeles Mayor Cherie Kidd said on Friday. "I want to hold people accountable for this so it doesn't happen again."
Kidd is going to meet with Hodges. Hodges said an investigation has been launched and was going to meet with unit commanders at the Joint Base Fort Lewis-McChord near Tacoma, about 90 miles south of Port Angeles.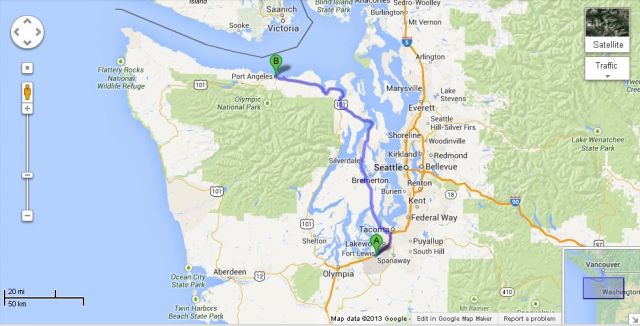 Another Army official was unapologetic.
"We do our best to try to avoid populated areas, but [with] those aircraft being so large and so loud, even if we're not very low, it seems very loud," said Army Major Michael Burns. "With helicopters, we cover such a wide area, it's tough to notify every agency."
Local resident Eric Phillips, who lives at the corner of Liberty Street and Georgiana Street in Port Angeles, said he saw four helicopters traveling in two sets, with one set flying without lights. The "heavy, military helicopters" were "spotlighting in town," he said, including circling the city for at least 30 minutes.
Photos:
Top: A CH-47 Chinook helicopter during a training exercise in May. (US Defense Department)
Bottom: The Joint Base Fort Lewis-McChord (point A), where helicopters that "terrorized" Port Angeles, a Washington city, flew from on July 11, 2013. Point B is Port Angeles (Google Maps)