By Maureen Farrell  @maureenmfarrell August 23, 2013: 11:56 AM ET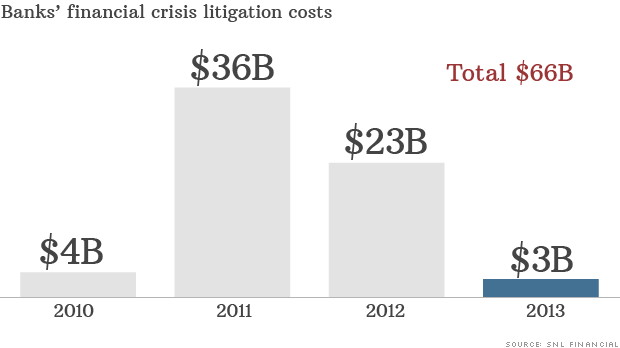 Bank's litigation costs related to the financial crisis and other misdeeds have already topped $66 billion.
NEW YORK (CNNMoney)
Big banks have spent an estimated $66 billion on litigation in the past three and a half years, according to SNL Financial. And those numbers are expected to keep swelling, as federal prosecutors and the SEC continue to look at wrongdoings tied to the 2008 financial meltdown.
The government needs to move swiftly to prosecute crimes leading up to the credit crisis and extract more penalties from big banks. That's because the statute of limitations for prosecuting many of these crimes is five years.
Continue Reading….http://money.cnn.com/2013/08/23/investing/big-bank-litigation/index.html