http://www.theguardian.com
Judge calls author whose name was synonymous with late-night TV infomercials habitual fraudster 'deceitful to the very core'
Associated Press in Chicago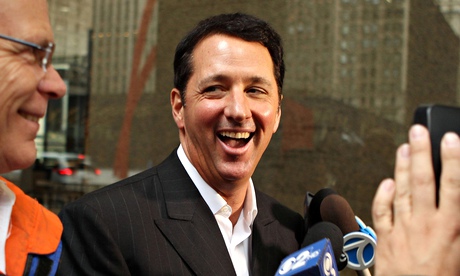 Kevin Trudeau was convicted in November for defying a court order barring him from running false ads about his book. Photograph: Terrence Antonio James/MCT via Getty Images
Best-selling American author Kevin Trudeau, whose name became synonymous with late-night TV pitches, has been sentenced to 10 years in prison for swindling consumers through infomercials for his book about weight loss.
As he imposed the sentence prosecutors had requested, district judge Ronald Guzman portrayed 50-year-old Trudeau as a habitual fraudster from early adulthood. So brazen was Trudeau, the judge said, he once even used his own mother's social security number during a scam.
"Since his 20s, he has steadfastly attempted to cheat others for his own gain," Guzman said, adding that Trudeau was "deceitful to the very core".
Trudeau showed little emotion as the sentence was handed down at a hearing in Chicago.
Addressing the judge in a 10-minute statement, Trudeau apologised and said he had become a changed man. He had meditated, prayed and read self-help books, he said, while locked up at Chicago's Metropolitan Correctional Center.