Wednesday, February 6, 2013 17:18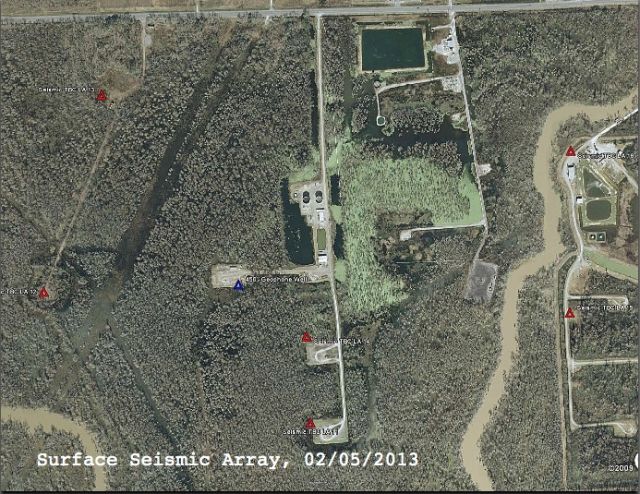 Photo: Days of man-made earthquakes at Louisiana's Napoleonville Salt Dome Disaster area: Seismic array, 5 Feb. 2013 Image credit: Assumption Parish Police Jury
A Center for Earthquake Research and Information (CERI) scientist has confirmed above-normal seismic activity for several days in the Louisiana's giant collapsing salt dome area Bayou Corne "sinkhole" disaster site where thousands of quakeshave rocked nearby Cajun communities since May.
Experts are researching the cause of days of recent quakes near Louisiana'shistorical collapsing 1-mile by 3-Napoleonville Salt Dome's "sinkhole" in Assumption Parish, according to "news" reports.
Experts have been researching the cause of these quakes in that began late May over the fossil fuel industry salt dome storage facility where the sinkhole is.
While sinkhole events are occurring throughout the world, the Bayou Corne "sinkhole" has risen to the title of Mother of All Sinkholes. It is unprecedented in its composition of fossil fuels. It is also irreparable, according to some officials. A global call for expertise has yielded no solution to stopping the expanding disaster.