This is just a few examples with Queen Elizabeth, David Icke, Ron Paul, and Churchill – so if you want to see the myriad of pictures he has analyzed, please go to wellaware1.com.  Let him know you would like Alexandra at GalacticConnection.com to interview him because I already have!;-)
Learn how what you think you know about the Royals and our Allies is not what we have been let to believe real.  The Actor based reality and their conditioning is in full swing globally not just in the US  or are we just being shown as world that is specialized for our eyes only, The same goes for the people of other nations?  Who are the BBG.gov and why does the president of the United States have to choose them while the rest of us don't even know who they are or what they do…..
Read More
SISTERS Not Twins 10 years apart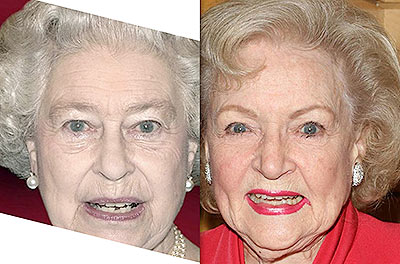 Try and tell me that Betty White is not the same person as Queen Elizabeth II. You are foolish to listen to those who bash me and don't even take a second to make sure they don't end up looking like fools. But that's OK with me, if the end result is they disqualify themselves by acting like children, go right a head be my guest.
I love when I'm wrong but it works out for the better