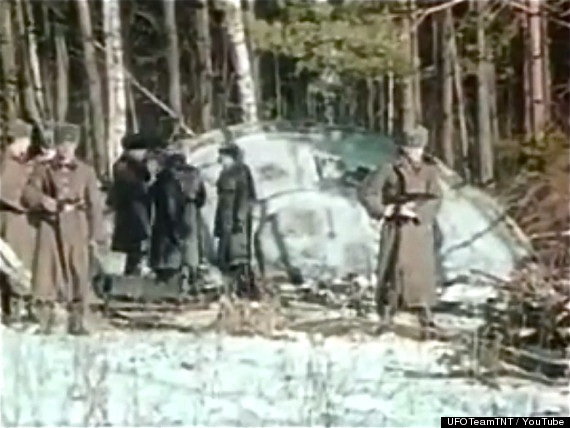 Stillshot from video of a 1969 UFO crash in Russia leaked by former KGB officials. Source: The Secret KGB UFO Files
In a Press Conference televised today, Russian President Vladimir Putin declared that it was unlikely that Russia would take over Ukraine's Crimean Peninsula. He declared: "We have reinforced protection of our military facilities, because we were receiving threats and saw that gunmen from terrorist organizations were coming,"   Russia's military actions in the Crimea has sparked international condemnation with Western leaders calling for a coordinated response, and taking symbolic diplomatic actions to punish Russia. In contrast, President Putin declared in his Press Conference that the recent events in Ukraine was an "illegitimate state coup" orchestrated by the intelligence communities of the U.S. and Europe that arranged for the overthrow of Ukrainian President Viktor Yanukovych.  According to Putin, Russia's military intervention was merely a proactive measure to defend Russian nationals in a territory that has been historically part of the Russia. U.S. Secretary of State, John Kerry attacked Russia for brazenly violating the sovereignty of a U.N. member state on trumped up charges. Kerry today stated, "not a single piece of credible evidence" supported Russia's intervention, ironically forgetting that the same could be said for the U.S. led invasion of Iraq based on non-existent weapons of mass destruction.
Ukraine is but the latest in a series of former territories of the Soviet Union that have been courted with membership offers to the European Union (EU) and promised eventual membership of NATO. As former Soviet era territories continue to join the EU and eventually NATO, the effect is to gradually squeeze the Russian sphere of influence, and make Russia subservient to the agenda of the Western power elite.  In the chess board of international politics, Ukraine is but a pawn in a grand strategy to checkmate Russia. Why? What makes Russia so politically dangerous to the Western power elite? Is it Russia's nuclear arsenal? Is it Russia's political tradition of standing up to forces of international banking and the Western power elite? Or is it another deeper form of international politics being played out with Russia – exopolitics? Is Russia's main threat to the Western power elite a carefully orchestrated policy of slowly leaking information concerning UFOs and extraterrestrial life to its citizenry and the world?