By the way, with regard to Google's numbers submitted early by mistake… that was their printer, R.R. Donnelley who messed up.
It was clearly a draft that was filed because it had a notation on it to verify something or other before finalizing. Hard to miss. An insider told us that yesterday so we could gloat because…
Donnelley bought the financial printing company my spouse worked for— for 20 years— and laid off nearly all the original staff of Bowne & Co. and kept their own.
Google will no doubt fire RRD. Donnelley's ethics were dodgy and business practices antiquated. Their own shares closed at $10.76, down 10 cents.
AND, Google is currently under investigation for unlawful data mining practices in the U.S. and Europe. There's a whole lotta karma goin' on.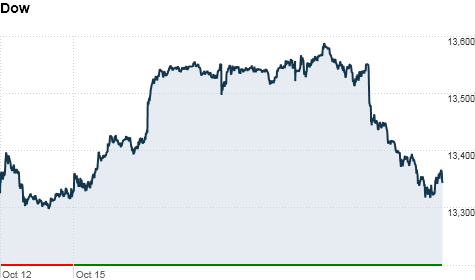 NEW YORK (CNNMoney) — A slew of weak earnings reports sent investors reeling Friday and pushed all three indexes down nearly 2%, marking the worst day on Wall Street since June.
The S&P 500 lost 1.6%. The Dow Jones Industrial Average dropped 205 points, or 1.5%. The Nasdaq posted the steepest declines, falling 2.2%.
The day started on a sour note after McDonald's (MCD, Fortune 500) and General Electric (GE, Fortune 500) reported earnings that fell short of forecasts.
"The high profile earnings have been a disappointment so far," said Frank Davis, head of trading at LEK Securities. "We've now had enough companies reporting that people are looking at overall fundamentals, and the valuations of stocks aren't that attractive."
Still, both the S&P 500 and the Dow eked out gains of 0.3% for the week, while the Nasdaq dropped 1.2%.
The tech sector continued to disappoint Friday, a day after two tech giants, Microsoft (MSFT, Fortune 500) and Google (GOOG, Fortune 500), reported results that fell short of expectations.
Microsoft's sales were flat, while Google missed analysts' estimates on both sales and profit when it accidentally reported earnings ahead of schedule. The stock of both companies pulled down the indexes with each dropping more than 1.9%.
So far, 23% of S&P 500 companies have reported quarterly results, according to S&P Capital IQ analysts, who expect third-quarter earnings overall to grow a modest 0.04%. That would be the lowest expected growth rate since the third quarter of 2009.
On the bright side, "trading is orderly. It's not frantic selling," said Douglas DePietro, a managing director for sales and trading at Evercore Partners. Volumes, he noted, remained relatively muted throughout the day. managed
Friday also marks the 25th anniversary of the worst one-day stock plunge in history, known as "Black Monday," when the Dow dropped 22.6%.
Related: Black Monday: 25 years after the crash
Economy: A new reading on housing didn't do much to reverse Wall Street's doom and gloom.
The National Association of Realtors said September's existing home sales came in at an annual rate of 4.75 million. That was down from the 4.83 million pace the previous month but up 11% from the rate of sales a year earlier.
Yet, the housing report was better than analysts had expected so it actually bolstered shares of home builders Toll Brothers (TOL), Hovnanian Enterprises (HOV), PulteGroup (PHM), and KB Home (KBH), which gained between 1% and 2%.
Overseas, European Union leaders in Brussels agreed late Thursday to establish a eurozone-wide banking supervisor in 2013 designed to help prevent future catastrophic bank failures that could threaten the monetary union.
European stocks closed lower Friday. Britain's FTSE 100 slumped 0.3%, the DAX in Germany fell 0.8% and France's CAC 40 lost 1.1%.
Meanwhile, Asian markets closed mixed. The Shanghai Composite slid 0.2%, the Hang Seng in Hong Kong gained 0.2%, and Japan's Nikkeiadded 0.2%.
Companies: Honeywell (HON, Fortune 500) posted third-quarter profits that topped forecasts, but revenue disappointed. Its stock still closed up nearly 2%.
Sandisk (SNDK, Fortune 500) shares climbed 3% following quarterly results late Thursday that trounced expectations.
Chipmaker Advanced Micro Devices (AMD, Fortune 500) took a big hit, with shares falling 15%, following weak third-quarter results.
Fellow chipmaker Marvell Technology Group (MRVL) also dropped nearly 15% after cutting its guidance.
Related: Chipotle loses its sizzle
Shares of Chipotle Mexican Grill (CMG) dropped more than 15%, after the company reported third-quarter earnings that missed expectations and slower sales growth. Hedge fund manager David Einhorn recommended shorting the stock several weeks ago.
Related: Obama's record on oil and gas
Currencies and commodities: The dollar rose against the euro and Japanese yen, but slipped versus the British pound.
Oil for November delivery lost $2.05 to $90.05 a barrel.
Gold futures for December delivery fell $20.70 to $1,724.00 an ounce.
Bonds: The price on the benchmark 10-year U.S. Treasury edged higher, pushing the yield down to 1.77% from 1.83% late Thursday.
http://2012thebigpicture.wordpress.com/2012/10/19/stocks-log-worst-day-since-june/