MatrixBob
DailyCaller
DID UNITED AIRLINES INITIATE A SMEAR CAMPAIGN AGAINST DOCTOR FORCIBLY REMOVED FROM FLIGHT?
–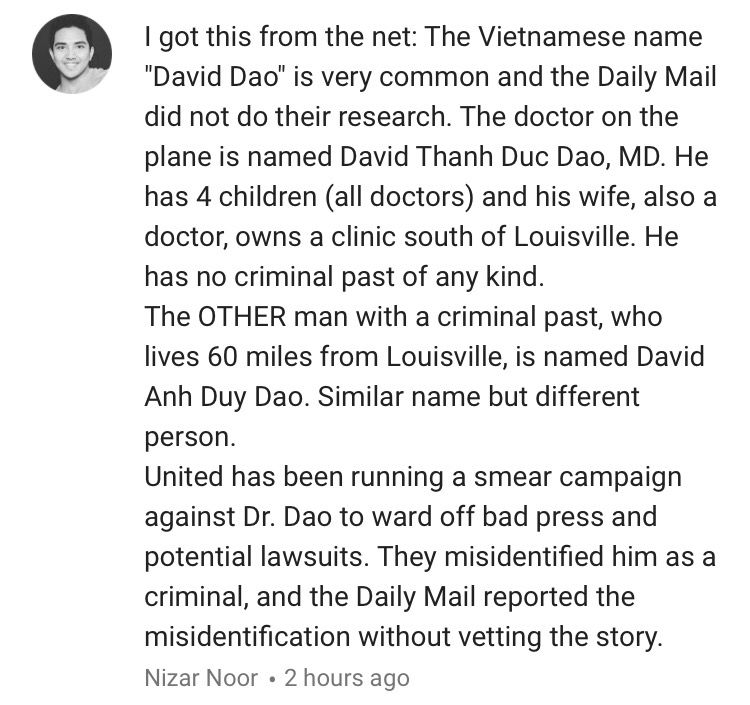 United Airlines Admits Controversial Flight Wasn't Actually Overbooked
he United Airlines flight from which a passenger was forcibly removed to make room for airline employees wasn't actually overbooked, a company spokesman told The Daily Caller, contradicting previous reports.
Kentucky doctor David Dao was dragged from the plane after he refused to give up his seat to make room for airline employees. The spokesperson said that "a United Express crew needed to get to Louisville to operate a flight downline." (RELATED: Now Reporters Are Smearing That 69-Year-Old, Bloodied United Passenger)
The airline offered $800 to anybody willing to give up their seat for the four crew members, before choosing passengers at random to leave the plane they had already boarded. When Dao refused, police officers were called to forcibly remove him from the plane. The incident left Dao bloody and disoriented.
Read more:  http://dailycaller.com/2017/04/11/united-airlines-admits-controversial-flight-wasnt-actually-overbooked/#ixzz4eEnaF5t9