Vegetation on Mars?
The Case for the Trees
.
The Blue Bird Files
Blue Bird's Contribution
Member of ATS
Discussion Thread at ATS About These Anomalies
(Edited by Pegasus)
What is this?
Is it a forest on Mars!?
Originally posted by blue bird on 7-4-2007(ID:3097743)
*** photo taken by MOC (Mars Orbiter Camera), a satellite for photographical mapping of Mars that, at latitude -82.02°, longitude 284.38° (near to the Martian south pole) has filmed something totally incredible, but still neglected: it's some form of vegetation on Mars.
Look for yourself!

Malin Space Systems Image; S0600607
Malin Space Systems Image; S0600607.gif
(this is View full-size image, processed but NOT map-projected lossless GIF, best quality, slow download)
Mars Anomaly Research; Forest-Life-Biodiversity
More Trees…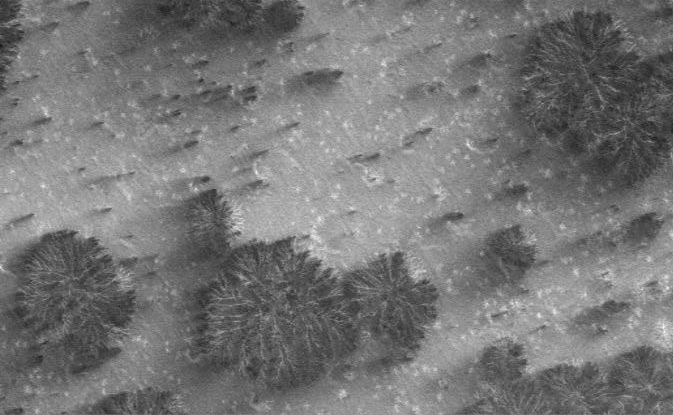 Credit: Malin Space Systems
Pegasus Report: Trees on Mars?
Added by Pegasus… this is our page on the Martian Trees with comparisons from the Ikonos Satelte of trees on Earth…
Read more:  http://www.thelivingmoon.com/43ancients/02files/Mars_Blue_Bird_Life_01.html