Want To Thicken and Grow Your Hair and Nails Longer?
There are a lot of Hair Skin and Nails Products out there, but this is one of the best!
Do you have thinning hair where more and more of it shows up on your comb and brush or floor then on your scalp?  Well this was one of my concerns and I actually asked Spirit to assist me with how could I thicken and grow my hair long.  I had tried continuously to grow my hair out and it never grew past a certain point.  I had always had thin hair and unfortunately experienced several circumstances where a lot of my hair fell out due to stressful episodes throughout my life. 
You can imagine my wonder when days later I went to see a girlfriend who is a massage therapist and esthetician.  She was showing me some before and after shots taken of people's length of hair, that is before the Hair, Skin and Nails was taken and then afterwards.  Some of the photos revealed people whose hair grew inches or more within days. I told her it was too unbelieveable to be true and she assured me it was not – that people are raving about this product.  Because this is her business, I believed her and I am glad I did! That was enough for me to try it and within 10 days, I too, experienced hair growth like never before in my adult life.  Stay committed to it because it is worth it.  I am noticing my hair is filling in and my ends are not so straggly. I can see a lot of new growth at the scalp line and my hair is so much healthier and softer.  And no, I haven't updated my organic shampoo/conditioner that I am using.
It Works Hair Skin Nails Before & After Pictures Picture (I am trying to get copies of the other pictures she showed me – coming soon!)
I don't receive a commission from you purchasing this, but if you use the link below, it helps me accumulate points towards future product(s).
My customer ID number is 4640456
Retail Price: $ 55.00
If you sign up for their Loyal Customer Program it is only $33.00
---
Here is the description of Hair Skin Nails!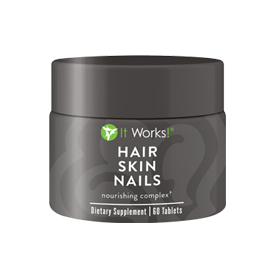 Nourishing Complex
Be a more radiant, youthful looking you with support for stronger nails, softer and smoother skin, and shine-worthy hair! With essential vitamins, minerals, and plant-based nutrients, Hair Skin Nails enhances your own natural collagen and keratin production, supports healthy cell growth, and boosts your body's free radical fighting defenses. It's optimal nourishment to look your beautiful best from the inside out!
Boosts your natural collagen and keratin production

Supports the body's defenses against free radical damage

Moisturizes while enhancing skin's elasticity and flexibility

Promotes healthy cell growth, strength, and shine
These statements have not been evaluated by the Food and Drug Administration. These products are not intended to diagnose, treat, cure or prevent any disease.
Individual results can and will vary. Testimonials are not necessarily representative of all those who use our products. All participants giving testimonials utilized a reasonable exercise program that incorporates the Ultimate Body Applicator, It Works!® dietary supplements, physical activity, and a reasonable diet. These testimonials are not intended to make claims that these products can be used to diagnose, treat, cure, mitigate or prevent any disease. These claims have not been clinically proven or evaluated by the FDA.