Retired Roger Mahony is said to have shielded priests accused of child abuse in Catholic archdiocese of Los Angeles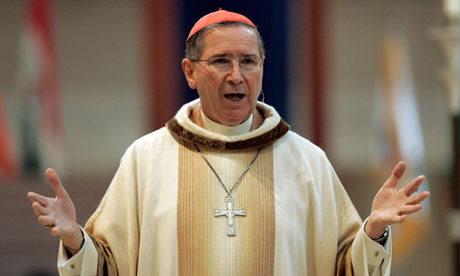 Cardinal Roger Mahony, who has been stripped of duties over the child abuse scandal. Photograph: Reed Saxon/AP
The Catholic archdiocese of Los Angeles has removed a top clergyman linked to efforts to conceal abuse as it released thousands on files of priests accused of molesting children.
Archbishop Jose Gomez said he had stripped his predecessor, the retired cardinal Roger Mahony, of all public and administrative duties. "I find these files to be brutal and painful reading. The behaviour described in these files is terribly sad and evil," Gomez said in a statement released by the US's largest Catholic archdiocese.
"There is no excuse, no explaining away what happened to these children. The priests involved had the duty to be their spiritual fathers and they failed," he said.
Mahony's former top aide, Thomas Curry, also stepped down as bishop of Santa Barbara.