SpotlightZimbabwe
TheStandard.co.zw
Thank you Sandi!
China tells Mnangagwa to resign or retire as Zimbabwe President
11-08-19 by Spotlight Zimbabwe
Itai Mushekwe/Mary-Kate Kahari 
PARIS/CAPE TOWN– President Emmerson Mnangagwa, has allegedly been told by China to either resign or retire from office as Zimbabwe leader, and handover power to Vice President, Rtd General Constantino Chiwenga, or risk facing unspecified political action from Beijing, Spotlight Zimbabwe, has gathered.
It was not apparent last night, what course of action the Asian political and economic giant was going to take if Mnangagwa refuses to go, with speculation that VP Chiwenga, who is in China and is expected home before the end of next month to act as president during Mnangagwa's annual Christmas leave, could be coming home to push out Mnangagwa for good, for failing to resolve the country's economic situation and more seriously, for reportedly cunningly overturning former President Robert Mugabe's "Look East Policy", thus placing China's economic interests in Zimbabwe under grave threat.
Spotlight Zimbabwe, last month reported that, hardline securocrats in Chiwenga's camp, now want him to be the country's president, and that he steps in to finish off Mnangagwa's term between 2020-2023, before making way to a successor of his choice, who will contest the next presidential plebiscite on a ruling Zanu-PF ticket as a civilian leader, with the alleged blessing and orchestration of China.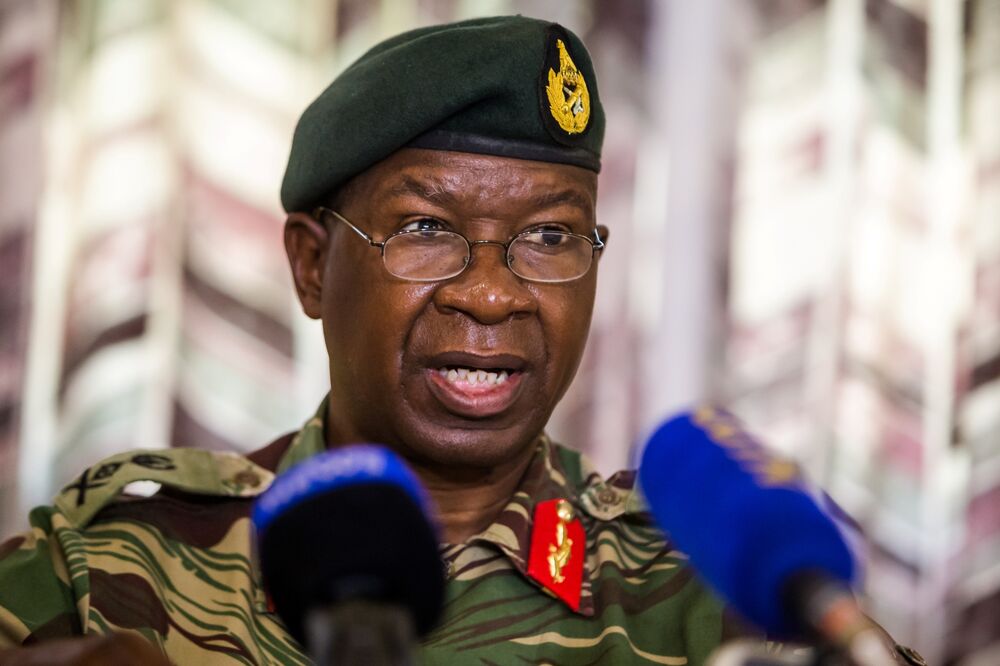 Current Zimbabwe Defence Forces (ZDF) Commander, General Philip Valerio Sibanda, is hotly tipped to become Chiwenga's first vice president, should he ascend to the highest office in the land.
Sibanda and Chiwenga are believed to have made a secret pact, to hand Zimbabwe power to each other in the aftermath of Mnangagwa's downfall.
According to a former intelligence minister and high level sources in the Office of the President and Cabinet (OPC), the writing is now on the wall for Mnangagwa, because he is said to have angered China's leader, Xi Jinping, by deceitfully slowly doing away with Mugabe's "Look East Policy" under his "new dispensation" and "Zimbabwe is open for business" mantra.
The former intelligence minister has also revealed for the first time, that China was the brains behind Mnangagwa's promotion to vice president in 2014, after lobbying Mugabe on his behalf, with the view of maintaining and expanding the "Look East Policy", which favoured economic ties and trade with China, together with other Asian nations ahead of the West.
"There is a serious political battle for the heart and soul of this country pitting China and the West," said the one time Mugabe minister.
"What Zimbabweans don't know is that China is the brains behind Mnangagwa's promotion to the office of vice president in December 2014, after lobbying Mugabe to elevate him with the understanding that, Mnangagwa was going to consolidate the country's Look East Policy, which promotes and protects China's enormous economic interests in Zimbabwe. However that is all under threat, as Mnangagwa is now seeking re-engagement with the West and doing business with Eurasia, upon advice from finance ministry officials."
The former minister said he will not be surprised if China is going to remove Mnangagwa because: "They put him there, when we had clearly initially opposed his VP appointment and Mugabe was aware of our position.Without China, he was not going to be vice president and subsequently the president. We know that a hidden Chinese hand was played in November 2017 to make Mnangagwa the president."
Apart from Mnangagwa's economic policy changes, OPC sources said China had recently told Mnangagwa through emissaries in Chiwenga's office to "resign or retire" gracefully as Zimbabwe president, or risk facing unspecified political action from Beijing.
"Yes the possibilities of another coup to topple him (Mnangagwa) are very high. The whole government and even our office is divided over him and Chiwenga," OPC sources said.
"However the reason China wants him out is because he has made them angry by reneging on a number of deals he made with Beijing in 2015, a few months after becoming vice president when he took a controversial trip there, which ended up angering Mugabe because it was linked to his succession. Some of the deals included offering China Railway, the contract to refurbish and reconstruct a new national railway network for Zimbabwe worth billions, but it now appears that a Western powerhouse (name supplied) is in negotiation to take over the massive project from the Chinese. Mnangagwa also undertook to give China exclusive diamonds and platinum claims in the country, but they have lost to Russia on that front. Emissaries from Chiwenga's office in Harare have relayed the message that China wants him to resign or retire gracefully to make way for the VP, otherwise action is going to be taken against him."
Spotlight Zimbabwe, can also exclusively report today according to senior staffers at the Zimbabwe Embassy in China that, Mnangagwa was also supposed to appoint former Zimbabwe Ambassador to China, Christopher Mutsvangwa, as his first vice president when he became president in November 2017 after toppling Mugabe in a coup, but deviated from an agreed plan with the Chinese.
Mutsvangwa played a pivotal role during the grand scheme to remove Mugabe coordinating intelligence and communications between then ZDF boss Chiwenga and Beijing from the capital and a command center in South Africa, from where he was operating after Mnangagwa was briefly fired from government by Mugabe.
It is also coming to light, from new information provided at hand, that had Mnangagwa honoured the original Chinese plan, Chiwenga was going to remain in charge of the military and only handover to General Sibanda, after Mutsvangwa succeeded Mnangagwa and appoints Chiwenga as first VP in his successor administration, which could have seen the formation of another government of national unity, to rope in opposition elements.
Mutsvangwa's efforts to negotiate a coalition government with former prime minister, Morgan Tsvangirai, after the November 2017 military putsch, was in vain as Mnangagwa refused to share power with the MDC-T.
"Mnangagwa had ideas of his own and ended up being forced to appoint Mutsvangwa as his special presidential adviser, so he could remain the eyes and ears of China in the presidency. To ease tension and further mistrust Mnangagwa went on to appoint Mutsvangwa's wife Monica to the influential post of information minister after his 2018 controversial re-election. That is the other untold story about the coup, but Mnangagwa's time is up, because of his political disobediance of China," the Embassy staffers said.
China has rejected claims it had a hand in Mugabe's coup ouster, accusing Beijing's critics of attempts to sully its reputation and derail China-Africa relations.
Chiwenga has been in China for medical treatment since July this year, and his security is now a close guarded secret of the Chinese government and an elite unit of the country's military intelligence.
China has invested in at least 128 projects in Zimbabwe from 2000 to 2012, according to The Diplomat, a current affairs magazine for the Asia-Pacific region.
"Zimbabwe is among the top three Chinese investment destinations in Africa, attracting a total FDI of more than $600 million in 2013. Moreover, China was Zimbabwe's largest trading partner in 2015, buying 27.8 percent of the country's exports. Chinese companies have also been actively engaged in contractor services in telecommunication, construction, irrigation, and power," notes the magazine.
Zim baby elephants: From the comfort of the jungle to 'steel prisons' in China
news reporter
Fresh evidence has revealed that some 32 baby elephants that were sold to Chinese buyers by Zimbabwean authorities under a thick veil of secrecy and without the approval of the Convention on International Trade in Endangered Species (CITES) have been quarantined and are living under harsh conditions in China.
The holding facility is inside Taihu Lake Longemont Paradise, which is located on the south bank of Taihu Lake, some 11 000km away from the baby elephants' natural home in Zimbabwe.
Investigations carried out in collaboration with the Information for Development Trust, a Zimbabwean non-profit organisation helping journalists to probe corruption, revealed that, initially, the government had intended to sell 37 baby elephants but five were withdrawn just before their transportation to the airport because they were sick.
A fresh video leaked by trusted sources in China shows the captive young jumbos displaying restlessness, signs of stress, fatigue and timidity in cages that measure approximately six metres high, four and a half metres long and three metres wide.
The new steel cages are made of roughly 30-centimetre thick round bars, and each cubicle has a shallow rectangular water pond, a metre above the floor.
There is grass hay inside, the timid animals shy away from the gates and there are no recreational facilities for the baby elephants.
"Their (baby elephants') skin looks grey and dry and they have sunken temporal areas indicative of stress," said an animal expert based in the capital Harare on condition of anonymity.
The Paradise park is yet to officially open to the public, according to China Daily, an online publication.
It is a tourist project comprising luxury hotels, care apartments for the aged, an international circus city, a wild animal world, an amusement park, a shopping centre and wetland parks.
The park is projected to become the biggest of its kind in the world when fully operational, with the capacity to exhibit 11 500 animals representing 425 species.
The baby elephants, it has been established, are meant to be entertainment animals in the zoo, as has become the norm in China and other parts of Asia.
They were plucked away from their families in the Hwange National Park in February this year and moved to bomas awaiting exportation to China and, before the recent video leak, their exact location was not known to the world even though it is known that they went to the Asian country late last month.
They were transported aboard a Saudi Arabian Flight number SV3049 from Victoria Falls.
According to Chinese sources, at least five ZimParks officials accompanied the elephants and three of them were at one time spotted at a hotel close to the animal park.
Whiles CITES must issue export permits, reliable sources said this has not been the case with Zimbabwean baby elephants, implying that they have been taken out of the country in violation of international protocols.
Both Zimbabwe and China are signatories to the CITES, even though the former recently voted against a popular provision to ban the forced removal of wild elephants from their natural habitats into captive conditions.
Quarantining the baby elephants, it was learnt, is meant to acclamatise them to the new environment and weather before making them full time entertainers at the zoo.
But considering that harsh winter is approaching in the region, their release into the zoo could be delayed.
China is known for experiencing extreme weather conditions that include heat waves and biting colds.
Zimbabwe has been selling live animals to other countries across the world for a long time now and, in 1983, the southern African nation made history by becoming the first country on the continent to send away live elephants.
Zimbabwe continued to export jumbos in subsequent years during which alleged fake CITES permits were used.
This raised eyebrows among wildlife conservationists as well as animal activists, who repeatedly complained that there was lack of transparency in the exportations.
"We ended up suing the government in May this year, for lack of access to information regarding the exports," a Harare-based environmental lawyer working with Advocates4Earth, Lenin Chisaira, said.
According to Chisaira, there was suspicion that Zimbabwe was failing to satisfy the basic principles of animal welfare that include provision of a suitable environment and diet, proper housing, and protection from pain, trauma and disease.
The High Court challenge against the exportation of the baby elephants is yet to be heard despite being filed as an urgent application but even if that were to happen anytime, it would be academic as chances of the return of the animals are minimal.
The May High Court application seeking to bar the Zimbabwe National Parks and Wildlife Management Authority (ZimParks) from exporting the animals could not deter the shipment of the baby elephants from Hwange to China on 24 October.
Zimbabwe National Society for the Prevention of Cruelty to Animals (ZNSPCA) inspectors were barred from accessing the baby elephants while in the holding camp in Hwange, leading to a police report being made.
According to a Dete police report against Zimparks Hwange cluster manager, Samson Chibaya, the authority acted illegally by barring the inspectors.
It is alleged that a few days ahead of the departure of the jumbos to China, Chibaya denied ZNSPCA inspectors, access to the ZimParks Game Capture Unit located at Umtsibi within the Hwange National Park.
Subsequent attempts were also unsuccessful as there were specific instructions from top officials in government, sources revealed, to frustrate the inspectors' efforts.
"ZNSPCA inspectors are government appointed in terms of The Prevention of Cruelty to Animals Act (19:09) and their obstruction is a jailable offence.
"We understand a high degree of secrecy and lack of transparency surrounded this particular shipment of young elephants," the ZNSPCA statement reads.
Subsequently, ZNSPCA approached the Bulawayo High Court compelling ZimParks to allow the inspectors to access the holding facility but an order is yet to be granted.
Animal welfare activists have over the years queried where the money realised from the unconventional exportation of the baby — and adult — elephants goes.
Apparently buckling under the pressure, Zimparks released a statement in early November claiming that it had made some US$3.2 million from 2016, selling 101 elephants and using all of the money on operational costs that included the purchase of rough terrain Toyota Landcruisers.
The authority also bought vehicles spare parts, introduced dog patrols with part of the money and boosted its armoury with ammunition worth US$192 000.
Information at hand shows that during the period covered by Zimparks in its statement, the first batch of more than 30 elephants was transported in 2016, facilitated by a Chinese born businesswoman Li Song for an amount of US$1 065 000.
The animals were transported to Beijing Tianhaobouri.
The second batch of 30 animals was transported to Tianjin Junheng International and were sold for US$930 000.
In the case of the animals dispatched on 24 October, 20 were paid for at an amount of US$700 000 and US$372 000 was later paid for the other 12.
Li reportedly facilitated the deal according to the first leaked ZimParks document whereas in the second document Liang Zhao was named as the facilitator. A name search revealed Liang Zhao is a circus performer.
The wildlife agency said it had received the green-light to export from the Office of the President and Cabinet.
But stubborn reports have repeatedly linked the irregular exportation and poaching of baby and adult elephants to senior politicians, bureaucrats, secret service operatives, powerful military officers, Zimparks officials and politically linked business tycoons who are believed to be pocketing some of the proceeds.
Li is a name that is refusing to go away in all this. According to her national identity card, she hails from Henan province in China and was born in 1973 but is now a Zimbabwean citizen.
Li is a major shareholder in Eagle Tannery that is based in Marondera in Mashonaland East province, as one of her multiple international entities, but the company is now dormant, it emerged.
She is also the chairperson of China Trade Association in Zimbabwe that links Chinese businesses with local investors, in addition to running a purported anti-poaching entity,
Eagle Tannery used to export hides and crocodile skins and provided steady suppliers of hide to the Zimbabwean army, police, air force and prisons services for the manufacture of military boots and other leather products.
Among other senior politicians, Li is believed to have enjoyed a close relationship with Sydney Sekeramayi, the former Defence minister thought to have played an active role in facilitating business deals with the military and in the irregular exportation of elephants as well as poaching in the Zambezi Valley.
But Sekeramayi dismissed the accusations in a terse telephone response.
"I have never been involved in anything that broke the Zimbabwean law nor with any individual or institution acting criminally," he said.
Li hung up the moment she learnt that she had been called by the reporter investigating her alleged involvement in the exportation of baby elephants and ignored numerous subsequent calls.
When contacted for comments on the matter ZimParks spokesperson, Tinashe Farawo, instead said the authority's focus was on reducing the human-animal conflict in the Hwange National Park.