http://www.theguardian.com/
Prime minister alludes to courts and D notices and singles out the Guardian over coverage of Edward Snowden saga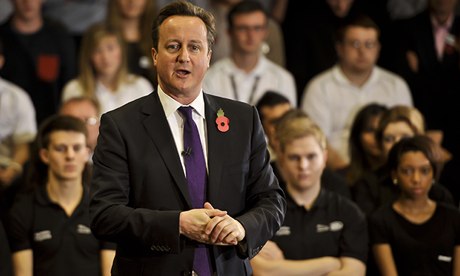 Cameron tours the Mini car plant in Oxford. The prime minister claims he doesn't want to have to take legal action against the Guardian and other newspapers over intelligence leaks but would rather talk to them. Photograph: Ben Birchall/PA
David Cameron has called on the Guardian and other newspapers to show "social responsibility" in the reporting of the leaked NSA files to avoid high court injunctions or the use of D notices to prevent the publication of information that could damage national security.
In a statement to MPs on Monday about last week's European summit in Brussels, where he warned of the dangers of a "lah-di-dah, airy-fairy view" about the dangers of leaks, the prime minister said his preference was to talk to newspapers rather than resort to the courts. But he said it would be difficult to avoid acting if newspapers declined to heed government advice.
The prime minister issued the warning after the Tory MP Julian Smith quoted a report in Monday's edition of the Sun that said Britain's intelligence agencies believed details from the NSA files leaked by the US whistleblower Edward Snowden had hampered their work.