by Underwatertimes.com News Service – June 9, 2012 18:18 EST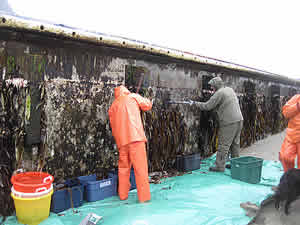 Workers from Oregon Department of Fish and Wildlife remove marine organisms from derelict dock set adrift by the Japan tsunami. Credit: OSU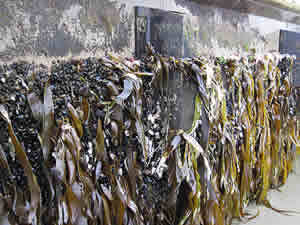 A close-up of marine life found on a derelict Japanese dock that washed up on Agate Beach. Credit: OSU's Hatfield Marine Science Center.
COVALLIS, Oregon — When debris from the 2011 earthquake and tsunami in Japan began making its way toward the West Coast of the United States, there were fears of possible radiation and chemical contamination as well as costly cleanup.
But a floating dock that unexpectedly washed ashore in Newport this week and has been traced back to the Japanese disaster has brought with it a completely different threat – invasive species.
Scientists at Oregon State University's Hatfield Marine Science Center said the cement float contains about 13 pounds of organisms per square foot, and an estimated 100 tons overall. Already they have gathered samples of 4-6 species of barnacles, starfish, urchins, anemones, amphipods, worms, mussels, limpets, snails, solitary tunicates and algae – and there are dozens of species overall.
"This float is an island unlike any transoceanic debris we have ever seen," said John Chapman, an OSU marine invasive species specialist. "Drifting boats lack such dense fouling communities, and few of these species are already on this coast. Nearly all of the species we've looked at were established on the float before the tsunami; few came after it was at sea."