http://rt.com
Published time: November 05, 2013 07:38
Edited time: November 05, 2013 17:23
AFP Photo / Toru Yamanaka
Supporters of the Anonymous hacktivist collective are holding rallies all around the world on November 5, Guy Fawkes Day. They are protesting against what they see as the rule of greedy corporations and corrupt governments around the world.
17:00 GMT: Crowds have gathered in Amsterdam, joining the hoards of European protesters.

16:50 GMT: Police and participants of an 'Anonymous' march in Yerevan have clashed, according to Interfax. The detentions apparently began after the organizer announced his intent to "blow up the residence of the President of Armenia."

16:45 GMT: Hundreds of protesters have taken to the streets in Milan, Italy.
Anonymous activists hacked the website ofthe Italinan Istituto Comprensivo Giovanni XXIII at scuolastatte.gov.it
16:34 GMT: One person has been arrested in Washington DC during a confrontation between protesters and police. People were heard chanting: "Whose streets? Our streets!" as the arrest was made.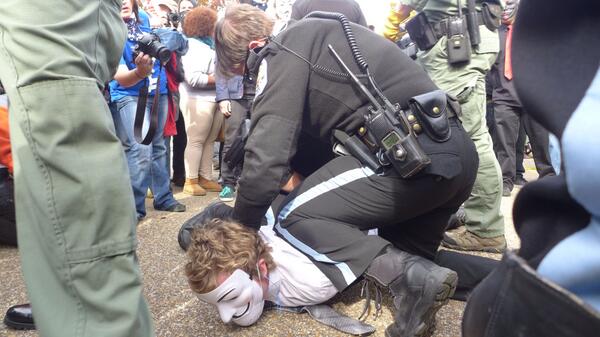 16:10 GMT: "They protest against what they see as a police state, they protest against the persecution of whistleblowers, they protest against Monsanto – the biggest producer of genetically modified seeds…generally  speaking they see themselves as a movement against the government and corporations taking advantage of the people," said RT's Gayane Chichakyan from Washington DC.
One masked participant explained his motivations fro joining  to RT. "First off it would be nice if he [Obama] would stop lying about knowing about the NSA and do something about the NSA," he said. "Spying on foreign leaders, allies, our own people, our own communications needs to stop, and it needs to stop now," he added.

15:55 GMT:

Police in DC attempting to divide & conquer: Threatening to pull permits for the rest of day if the crowd doesn't disperse.
15:35 GMT:

  Anonymous Operations @YourAnonCentral
15:25 GMT: Protesters are begin to gather in London's Trafalgar Square. RT's London bureau will be reporting live from the scene.
Rise in website Defacement attacks by the Hackers around the World on Singapore, Mexico, Philippines, Australia, Egypt, United States, Syria and many more.

The Hacker News™ @TheHackersNews
15:25 GMT:

Anonymous Operations @YourAnonCentral
15:19 GMT: Arguments over where the protesters can stand rage on, but the protesters have announced their arrival. One demonstrator on a megaphone was imploring other demonstrators to engage in acts of civil disobedience, but was seemingly met with a tepid response. Demonstrators are allowed three opportunities to obey a police order before they risk being detained.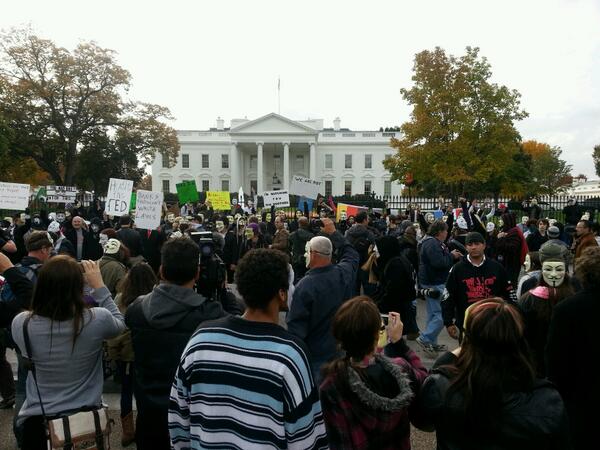 15:10 GMT:  Protesters outside the White House in Washington DC have successfully negotiated with police to allow them to stay on the sidewalk. Chants of "No justice, No Peace" and "Obama come out, we got somethings to talk about " are intermittently ringing out.

15:06 GMT: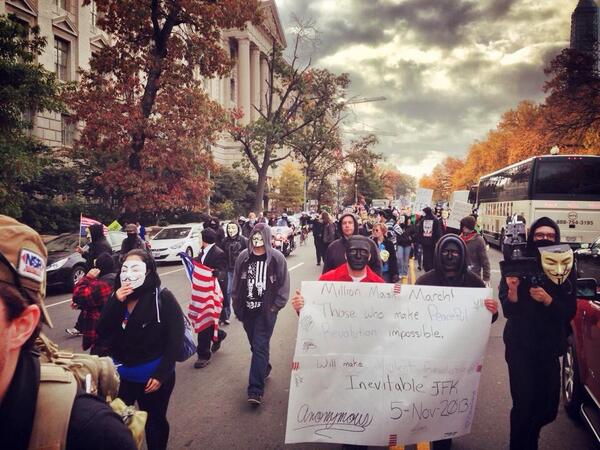 15:05 GMT: RadicalMedia, which is dedicated to covering Activist movements, is live streaming the Million Mask March from Washington DC.

15:00 GMT: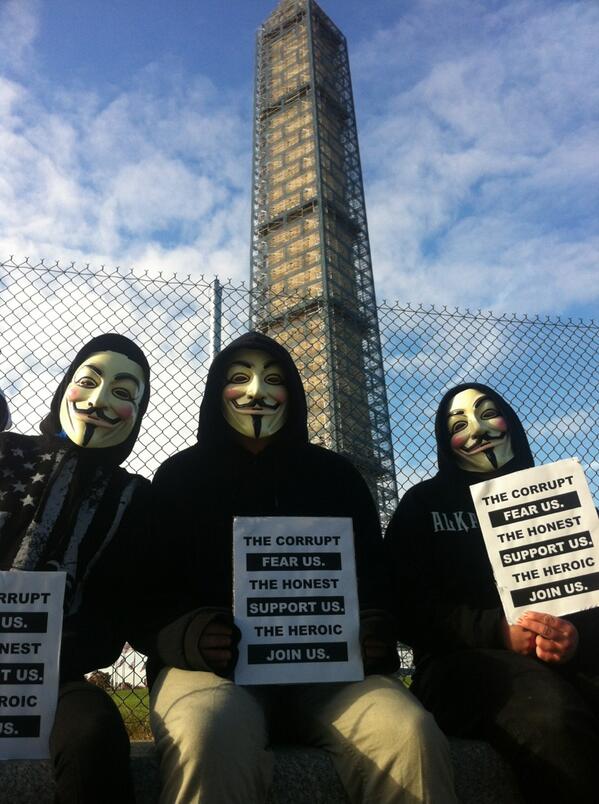 14:50 GMT: 
13:55 GMT: The Million Mask March is just kicking off in Washington DC. Event organizers planned to meet up at the Washington Monument at the National Mall and march on to Lafayette Park. Over 17,000 people plan on attending, according to the group's Facebook page. The stated goal of the march is: "To remind this world what it has forgotten, that fairness, justice and freedom are more than just words."

13:30 GMT: The Philippines are among one of several Southeast Asian states to hold marches as part of the global event.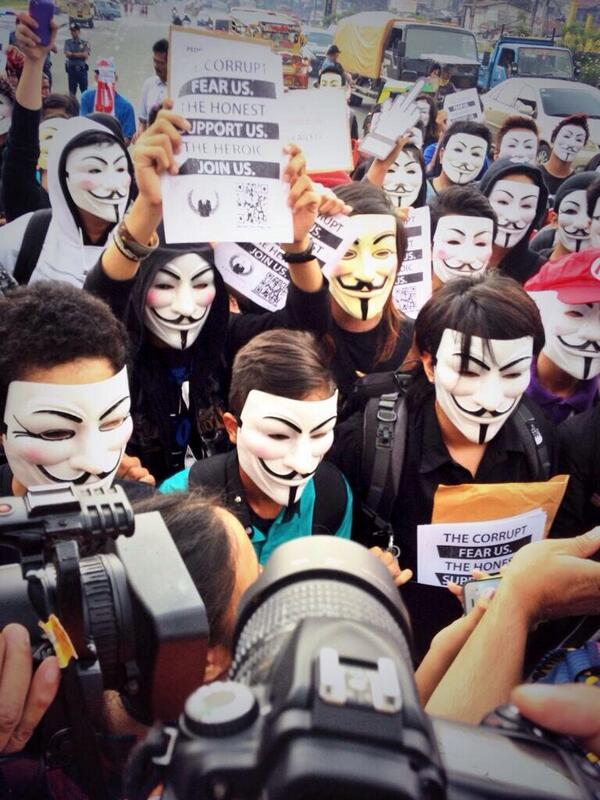 13:00 GMT:

12:53 GMT: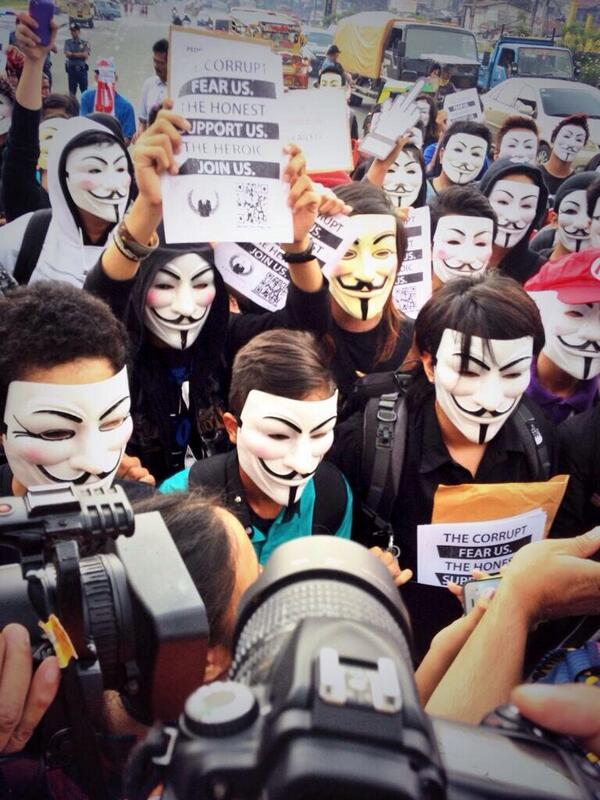 12:50 GMT: Hundreds of protesters in a "spontaneous protest" marching through the streets of Milan, Italy. Rallies are also set to be held in the Italian cities of Florence, Palermo and Rome.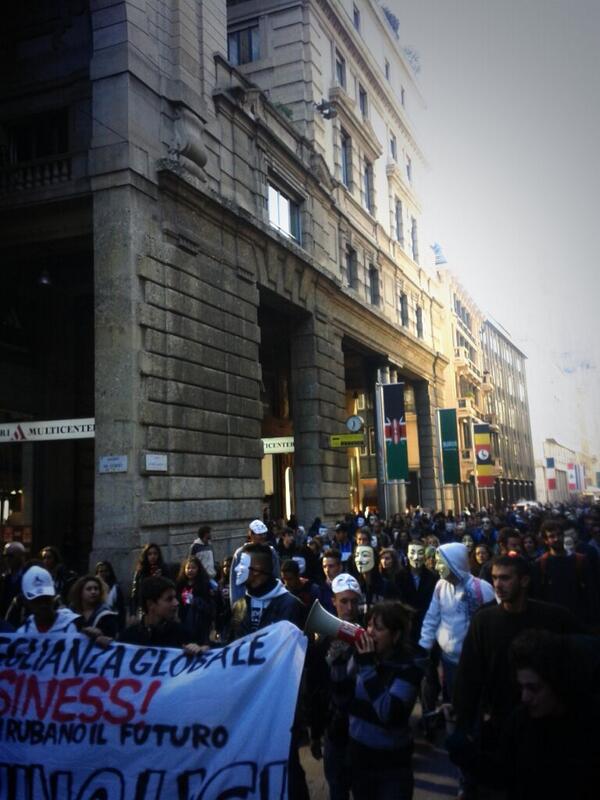 12:45 GMT:

12:35 GMT: In Brisbane Australia, meanwhile, the protest attracted more participants than originally expected. Speaking from King George Square, a speaker a rally identified as Steven, told ABC News that the non-centralized nature of Anonymous made it difficult to pinpoint an exact message behind the global rally.
"There's so much that goes on in our world, and with Anonymous, because there's so many of us, it's really hard to have an orderly or structured discussion, rally or march on one point. So it's probably best that we just incorporate all of them."

12:30 GMT: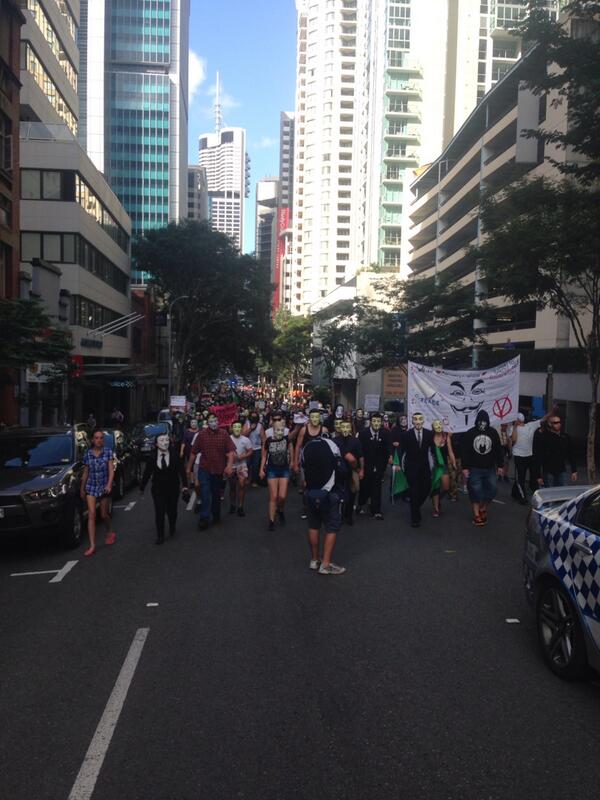 12:28 GMT: Several hundred people came out to take part in the Million Mask March in Melbourne, Australia. Activists, however, marked a note of overall disappointment with the day's proceedings, with many noting disaffection with the speakers at the event.
12:20 GMT:

12:10 GMT: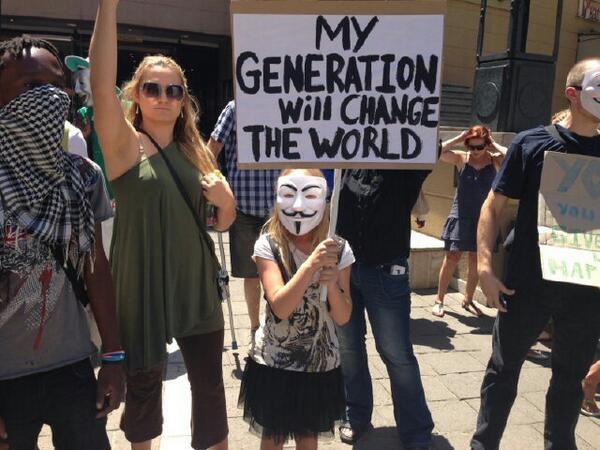 12:05 GMT: Several dozen demonstrators have gathered in Nelson Mandela Square, a popular shopping center in Johannesburg, South Africa, to participate in the Million Mask March. According to the 2012 Transparency International Corruption Perceptions Index, South Africa ranked 69th out of 176 countries, tied with Brazil and Macedonia. Organizers of the rally put corruption and tax fraud on the top of their agenda.
12:00 GMT: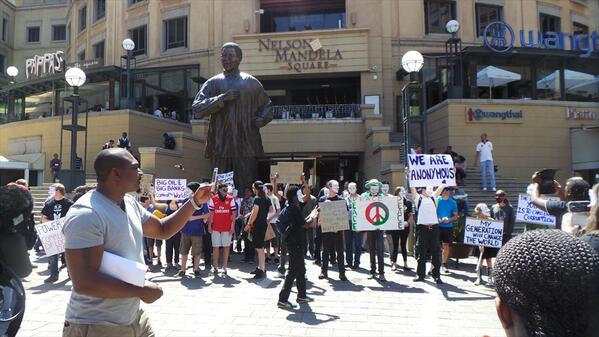 09:00 GMT: Anonymous movement is a peaceful pro-people collective with a diverse agenda, one of the masked protesters told 612 ABC Brisbane radio station.
"At the end of the day it is well-known that Anonymous is a non-violent collective, and we actually try to fight for people, for injustices," the man, who introduced himself as Steven, said.
07:50 GMT: Australia's Sydney, Melbourne and Brisbane were among those holding mask protests on Tuesday.
The country itself has been targeted by Anonymous recently over reported spying on Indonesians. Hackers calling themselves Anonymous Indonesia defaced some 200 websites with the .au domain in a gesture of protest.
Indonesia itself also had a masked protest on Guy Fawkes Day.
GMT: 07:40
07:10 GMT: Anonymous Philippines marched to Batasang Pambansa complex Tuesday noon to protest rampant corruption in the country, Manila Bulletin. Police officers briefly blocked the march after it gathered along Quezon City Circle, but later allowed them to proceed to the vicinity of the House of Representatives.
The group has discouraged activists from using banners which would identify their organizations, saying they should keep the protest "anonymous."
Last Sunday hackers pledging allegiance to the Anonymous cause attacked at least 39 local and national government websites in the Philippines, drawing extra public interest to the Tuesday protest.
07:00 GMT: In Japan the Guy Fawkes-themed action had an environmental twist, as masked activists made their contribution to cleaning the streets.
Image from plus.google.com