Please send your love, light, and prayers to this area……..-A.M.
Monday, January 20, 2014 8:26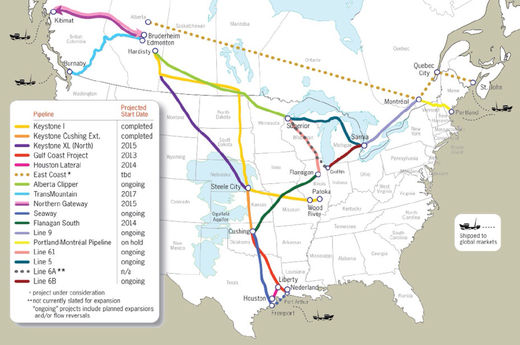 Enbridge Energy has just reported that their Alberta Clipper tar sands pipeline is being shut down because they have spilled over 5000 gallons of oil. The spill happened in Saskatchewan, Canada, and it is not yet clear what has caused the leak. Enbridge has reported that the spill occurred at one of their pumping stations but some of the oil has sprayed onto nearby private property. This latest spill is yet another example on why Enbridge should focus a lot more time on pipeline safety instead of rushing and pushing through massive amounts of pipeline expansion projects throughout Canada and the US.
In fact, Enbridge is currently trying to gain approval in both canada and the US to expand the Alberta Clipper pipeline. They want to increase pressure on this pipeline from 450,000 barrels per day to 880,000 barrels per day! Enbridge has messed up before. They have a great reputation.  2014 is going to be the year of the oil spill whether it be through pipelines, wrecked trains or explosions or all of the above.  If you follow the news at all you will know this is happening far too often.  It's disgusting..  -Mort