Thanks to ForgottenMan for the heads up.
We're still rounding up the criminals and cleaning the streets!  Nate Harper is just one of many we may not have heard about prior.  ~ BP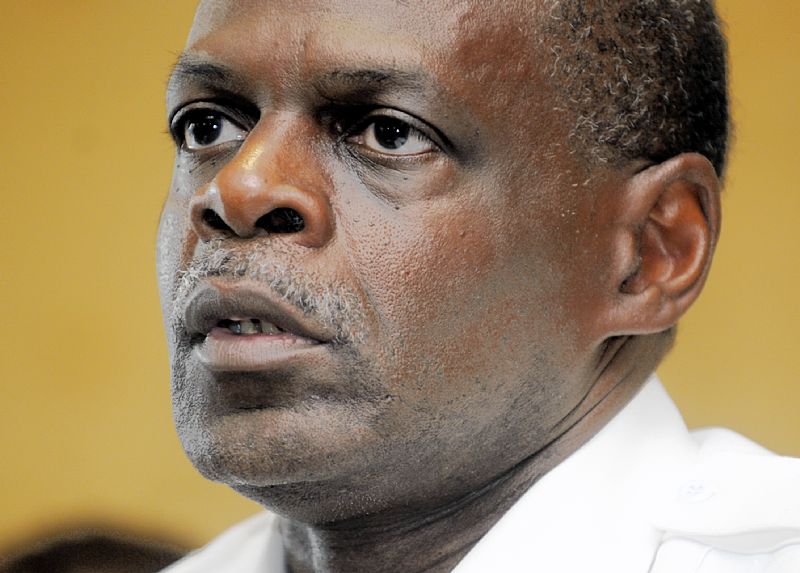 Bill Wade/Post-Gazette
Former Pittsburgh Police Chief Nate Harper.
former Police Chief Nate Harper
Bill Wade/Post Gazette
Former Pittsburgh Police Chief Harper faces jail time, loss of pension
Ex-chief expected to plead guilty today
October 18, 2013
By Rich Lord / Pittsburgh Post-Gazette
If former Pittsburgh police chief Nate Harper pleads guilty to conspiracy and tax charges this afternoon, as expected, not only his freedom but his pension will be threatened.
Mr. Harper's plea, set to occur before U.S. District Judge Cathy Bissoon, would launch a sentencing process that usually takes around four months. His attorneys have said that federal guidelines call for around 10 to 16 months in prison based on the charges and his lack of criminal history, though they may argue for house arrest.
Also potentially the subject of a court fight is Mr. Harper's $5,260-a-month pension, which he began collecting in March. Unlike private pensions, the retirement benefit of a public servant can be rescinded if he or she commits certain crimes — of which conspiracy is not one, though theft is.
Conspiracy is something of a gray area in pension forfeiture law. Most pension attorneys interviewed this week said they think Mr. Harper stands to lose his benefit.
"If you look at what he did, it would be hard-pressed for the Commonwealth Court and the state Supreme Court to say that this is not the kind of thing for which the forfeiture act was written," said James South, an attorney for Pittsburgh's Municipal Pension Fund Board, which handles the retirement benefit for city employees except for police and firefighters.
Mr. Harper, according to federal prosecutors, conspired with unnamed others to divert $70,628 in public funds and then spent $31,986 on personal uses, ranging from meals and alcohol to an XM satellite radio, oven and television. The money was paid to the bureau by private entities that required the services of off-duty police, and was meant for the city's general fund. Instead, it was shunted to unauthorized accounts at the Greater Pittsburgh Police Federal Credit Union.
Mr. Harper resigned in February at the request of Mayor Luke Ravenstahl, and was indicted in March for conspiracy to divert funds from a federally funded agency, plus four counts of failure to file tax returns.
"He is pleading to the indictment as charged," said attorney Robert Del Greco, who along with attorney Robert Leight represents the former chief. "There are no modifications, no plea bargain."
State law lists 21 crimes that, if committed by a public employee, result in automatic pension forfeiture.
The monthly benefit goes away, but those former employees get back the dollars they paid into the fund, without interest, minus the restitution they must pay for their crime. Mr. Harper, over his 36-year career, paid around $133,600 into the city police pension fund, so even if the benefit is forfeited and he is ordered to pay restitution, he might get a lump sum of around $100,000.
Mr. Del Greco said Mr. Harper's plea "does not contemplate a per se statutory disqualification" from getting a pension. Since the Legislature didn't include conspiracy as a crime warranting pension forfeiture, he said, "one must assume that the declination to include [that crime] was purposeful."
"In my experience, the list of enumerated offenses is interpreted very closely," said Philadelphia labor law attorney Richard Poulson.
He said a judge might recognize that a pension benefit is "money that's due and owing to somebody [based on contributions made] years and years and years ago before they ever even committed a crime."
Mr. Harper and his attorneys "would have an uphill battle" preserving his pension, said Bill Vinsko, city attorney for Wilkes-Barre who has handled pension forfeiture cases.
He said that in a 2010 case involving a Luzerne County employee the Commonwealth Court decided that a conspiracy to take public funds can trigger pension forfeiture. The state Supreme Court declined to review the decision.
"The answer is absolutely that [Mr. Harper] will lose his pension," Mr. Vinsko said.
Mr. Harper's pension is based on 50 percent of his highest 12-month salary, which was around $105,000, adjusted upward for his lengthy service.
Attorney James Wymard, who is the solicitor for the city Policemen's Relief and Pension Fund board, said the process of deciding whether the pension benefit is forfeited can't start until after Mr. Harper is sentenced.
Legislation tabled in the state House would clear up the question by adding to the forfeiture-worthy crimes any criminal attempt or conspiracy to commit one of the 21 named offenses. It would also strip pension benefits from any public employee convicted of a federal felony.
Mr. Harper, 60, of Stanton Heights was one of the bureau's tight-knit motorcycle officers, then rose through the ranks until he was chosen for the top job by Mr. Ravenstahl in 2006.
Mr. Harper's indictment was preceded by the Pittsburgh Post-Gazette's reporting of his involvement with Robinson businessman Art Bedway, 64, who has since pleaded guilty to conspiracy, bribery and mail fraud in relation to a city contract to outfit police cars and to his partnership in an embryonic private security business along with several subordinates.
Since the indictment, Mr. Harper has met repeatedly with federal investigators probing the city, and his attorneys have said he is cooperating with them.
The probe for months appeared to move closer to Mr. Ravenstahl. On Wednesday, though, acting city police Chief Regina McDonald and Deputy Chief Paul Donaldson appeared before a grand jury, unaccompanied by attorneys and characterizing themselves as helpful witnesses, not subjects.