http://srsroccoreport.com
So where is China getting all of its gold?  One of the large sources turns out to be the United States.  The U.S. experienced another record year of net gold exports in 2013.  Not only were gold exports at record levels, imports into the U.S. fell nearly half compared to 2010.
If we look at the chart below, U.S. gold exports in 2010 were 383 metric tons (mt), however by 2013, they increased 81% to 692 mt.  In addition, U.S. gold imports fell 48% from 604 mt in 2010 to 313 mt in 2013.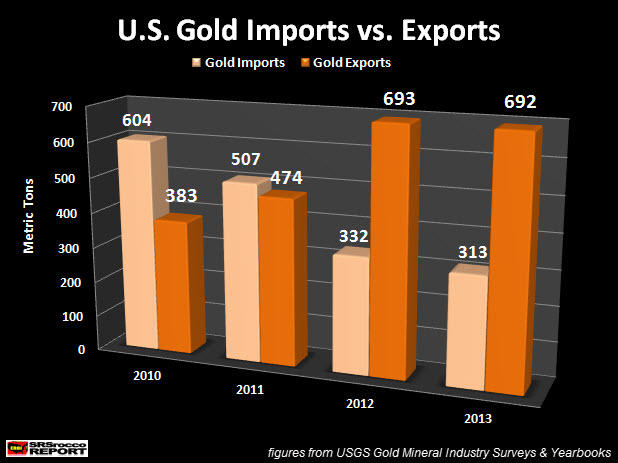 According to the USGS Gold Mineral Industry Survey (published late), the U.S. exported the majority of its gold in the first half of the year.  By the end of June, the U.S. exported 406 mt, averaging 68 mt a month.  In the second half of the year, the U.S. only exported 286 mt, averaging 48 mt a month.
The months with the largest exports during 2013 were March at 89.1 mt and April at 76.6 mt.  The total import-export figures based on three categories of gold:
1) ores & concentrates
2) Dore' & precipitates
3) Refined bullion
The overwhelming majority of gold exported was in the form of Refined bullion (488 mt), followed by Dore' bars & precipitates (197 mt) and ores & concentrates (7.6 mt).  If we just focus on refined gold bullion exports, the table below details which countries received gold from the U.S. in 2013: