---
US to suspend military exercises with South Korea, Trump says
The US has agreed to suspend military exercises with South Korea in return for a commitment to denuclearisation from North Korea, Donald Trump has announced, after a meeting with Kim Jong-un in Singapore.
Trump said the war games were expensive and "very provocative". Stopping them is a major concession, something the US has previously rejected as non-negotiable on the grounds that the exercises are a key element of its military alliance with Seoul, and maintaining a deterrent against North Korea.
In return, the US president said Kim had agreed in a joint statement to reassert "his firm and unwavering commitment to complete denuclearisation of the Korean peninsula".
However, that commitment was vaguely worded. A later paragraph in the statement signed by both leaders said only that North Korea "commits to work toward complete denuclearisation of the Korean peninsula", without defining what that meant.
Denuclearisation is the longstanding policy of the Pyongyang regime, but the regime interprets this as being an open-ended, gradual process in which other nuclear powers will also disarm.
Both the South Korean government and US forces in the region appear to have been taken by surprise by Trump's declared suspension of joint military exercises.
US forces in Korea said they had not received updated guidance on military exercises. "In coordination with our ROK [Republic of Korea] partners, we will continue with our current military posture until we receive updated guidance," a spokesperson told Reuters.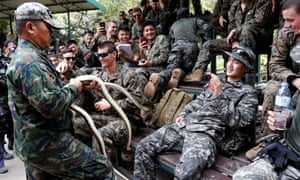 The South Korean presidency issued a statement saying: "At this moment, the meaning and intention of President Trump's remarks requires more clear understanding."
The South Korean military appeared similarly taken aback. NBC News quoted a statement as saying: "Regarding President Trump's comment regarding ending of the combined military drills … we need to find out the exact meaning or intention behind his comments at this point."
Military officials from both countries, including the US defence secretary, James Mattis, had vigorously opposed curtailing joint military exercises, on the grounds that doing so would undermine the alliance and its deterrent against North Korea…Read More at
---
---
---