Published time: February 06, 2014 09:18
Edited time: February 07, 2014 12:49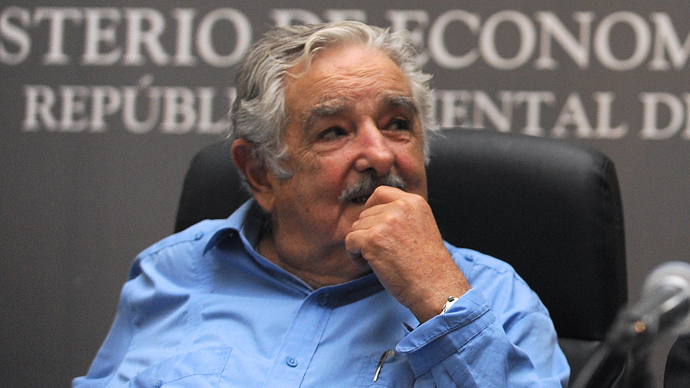 Jose Mujica (AFP Photo / Miguel Rojo)
The president of Uruguay has been nominated for this year's Nobel Peace Prize. According to his advocates, José "Pepe" Mujica's much talked-about marijuana legalization is in fact "a tool for peace and understanding."
For the second year in a row, the Drugs Peace Institute, which has supported Mujica's marijuana legalization drive since 2012, insisting that the consumption of marijuana should be protected as a human right, has endorsed his candidacy, along with members of Mujica's leftwing political party the Frente Amplio, the PlantaTuPlanta (Collective of Uruguayan growers) and the Latin American Coalition of Cannabis Activists (CLAC).
Despite an avalanche of global criticism, in late December Uruguay became the first country in the world to fully legalize the production and sale of the popular herbal drug. Under the new law, which comes into full effect in early April, Uruguayans will have several options to gain access to it.
The Drugs Peace Institute said that Mujica's stand against the UN-led prohibition of mind-altering substances is a "symbol of a hand outstretched, of a new era in a divided world."
"It is a promise to bridge the gap between defiant marijuana consumers and the prohibiting society. Hopefully, the start of the acceptance of this consumption by society and the concomitant development of understanding of its use as a natural medicine, historically used for spiritual liberation, might initiate a process of healing in a world, very confused and deeply divided, over its religious legacy," the Dutch NGO stated on its website.